Everything You Need To Know To Build A Health Information Exchange-Compliant Software
Digitization of the healthcare industry has created a shift in ways of rolling out standard care to the masses. Quality healthcare focuses on providing better patient-provider engagement which means an improvement in patient outcomes, enhanced care coordination, and reduced costs. The provision of better healthcare is the ease in accessibility and availability of information sharing between providers and consumers.
With the increased use of electronic health records (EHRs), interoperability has become a significant concern for software developers, for flawless communication and exchange of sensitive healthcare data. Health Information Exchange (HIE) is an important component of interoperability.
Building HIE-compliant software can be a daunting task without the proper guidance and knowledge. If you are aspiring to create a secure healthcare platform that is meant to work on the services front, read on to get a clear idea of HIE compliance.
Why is Health Information Exchange relevant?
Any healthcare software can securely and effectively share patient data with different healthcare providers and systems due to their compliance with Health Information Exchange (HIE). Adherence is crucial to protect sensitive patient health information (PHI) from unauthorized access, use, or disclosure. This is regulated by laws such as Health Insurance Portability and Accountability Act (HIPAA) and the Health Information Technology for Economic and Clinical Health (HITECH) Act to name a few.
Adhering to HIE guidelines and standards makes access to pertinent patient data easier for healthcare professionals, lowering the possibility of medical errors and improving patient care quality and effectiveness.
Best practices to maintain compliance with HIE
Developing HIE-compliant software requires a deep understanding of the regulatory and technical requirements. Here are some key practices to consider:
Follow strict data privacy and security protocols
Software that complies with HIE standards should follow stringent data privacy and security guidelines, be able to authenticate users, and only permit access to those who require it. A secure, monitored environment should also be used to store data to prevent unauthorized access or disclosure.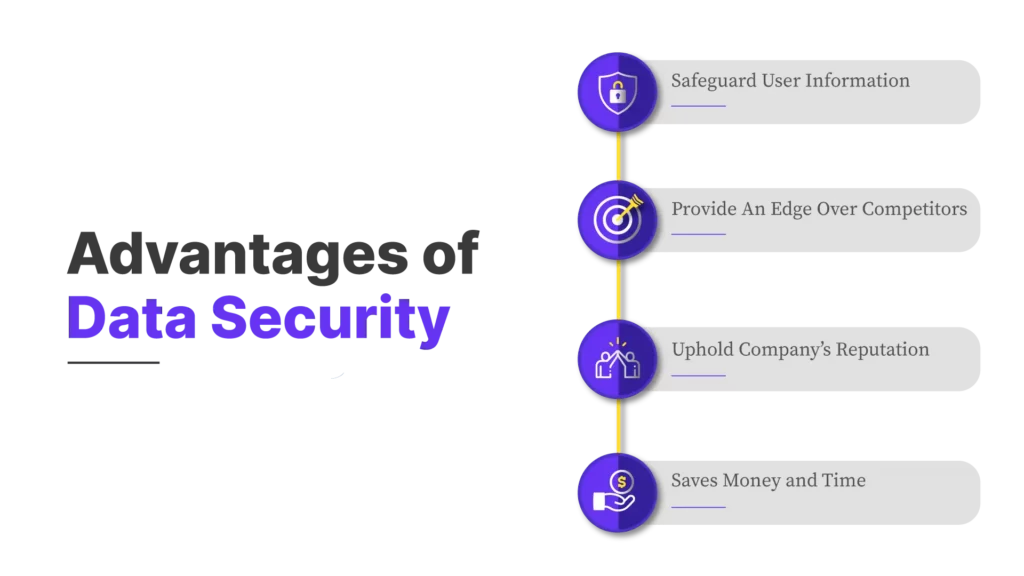 Utilize secure APIs and encryption
Sensitive patient data should be safeguarded against unauthorized access by encrypting data in transit and at rest. This is possible through the usage of secure application programming interfaces (APIs) that adhere to industry standards, such as Fast Healthcare Interoperability Resources (FHIR), to develop software that communicates with HIE networks.
Build-in audit trails
It's essential to create an audit trail that tracks the access and use of PHI. This records who accessed what data and when which can help identify security breaches or violations.
Test and validate for compliance
It's crucial to conduct thorough testing and validation to ensure your software yields with HIE compliance criteria. You are testing for security flaws and compliance with industry standards such as FHIR.
Benefits of EHR Integration
Common Challenges in HIE-Compliant Software Development
Developing software that complies with HIE standards can be challenging, but it is crucial to address the challenges to ensure interoperability and systematic data exchange among different healthcare providers.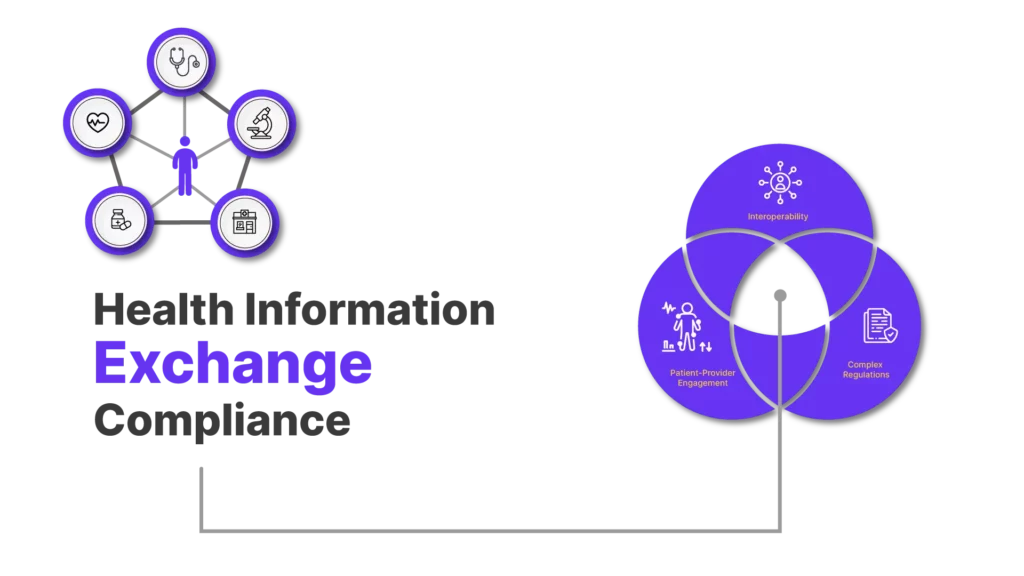 Interoperability Issues
The lack of interoperability standards and varying data formats used by different systems can make the task of integrating and exchanging data with various systems and applications used by healthcare providers complex.
Navigating Complex Regulations
Healthcare regulations, such as HIPAA and HITECH, are vital in ensuring patient privacy and data security. However, complying with these regulations can be challenging, especially for smaller healthcare organizations and startups with limited resources.
Potential Consequences of Non-Compliance
Failing to adhere to HIE standards and regulations can result in various repercussions, including legal liabilities, data breaches, a loss of patient confidence, and reputational harm. Financial penalties and the loss of business possibilities are also further consequences of non-compliance.
The Future of HIE Compliance in Healthcare Software Development
The continuous chain of development encircling the healthcare sector has successfully incorporated new technologies like blockchain and artificial intelligence. These have the potential to completely transform HIE compliance. 
By facilitating secure data interchange and patient identification verification, blockchain technology can improve data security and privacy. AI can also play a significant part in ensuring HIE compliance by automating numerous procedures, lowering errors, and enhancing patient outcomes.
Significant regulatory developments, including new laws and regulations, will likely affect the healthcare sector. These rules are intended to facilitate data sharing among healthcare providers and enhance patient access to health information. Healthcare company founders must keep up with these changes and follow the most recent laws.
Practical instances of software development that comply with HIE
Redox offers a platform for transferring medical data between various platforms by adhering to best practices, including secure APIs and encryption. Healthcare software provider Mirth focuses on interoperability solutions. Through the use of industry-standard protocols like HL7 and the application of security tools like encryption and access restrictions, Mirth has achieved HIE compliance.
Epic Systems offer popularly utilized electronic health record software for hospitals and clinics. By following stringent privacy and security guidelines and taking part in the ONC's certification procedure, Epic Systems achieved HIE compliance.
Allscripts is another well-known EHR software. Through industry-standard protocols, including HL7, CCD, and C-CDA, Allscripts has received an interoperability certification with other systems. It has also implemented several security safeguards to protect patient data during the exchange procedure.
HIE compliance is essential for a startup founder in the healthcare sector to guarantee the secure and safe transmission of patient health information between healthcare providers.
"Interoperability may not have gotten enough attention in the early days of the Meaningful Use of electronic health records (EHR) gold rush, but it's now taking center stage as healthcare providers, government agencies, vendors, and committees consider how to support the exchange of data easily and securely. It's very easy to point fingers at folks. People underestimate how challenging this work is," Sawyer told InformationWeek. "I think the vendors are being cautious before spending lots of research and development money before a standard is more clearly defined." -Alison Diana, Information Week, "Healthcare Interoperability: Who's The Tortoise?"
HIE compliance is essential for a startup founder in the healthcare sector to guarantee the secure and safe transmission of patient health information between healthcare providers.
Take your software's healthcare information exchange compliance goals to the next level with TechVariable. Contact us today.