Michael has been part of the caregiving industry for over 18 years now. Having served a long service sentence, he has seen the ins and outs of the industry. He wishes to run an efficient healthcare system.
Michael desires a dynamic solution for his organization to effectively manage patient data, improve medical outcomes, and maintain a steady care flow. In short, his healthcare solution needs a robust integration with Electronic Health Records (EHRs).
If your inner Michael is in a similar situation, read about the need for a strong backbone through EHR Integration.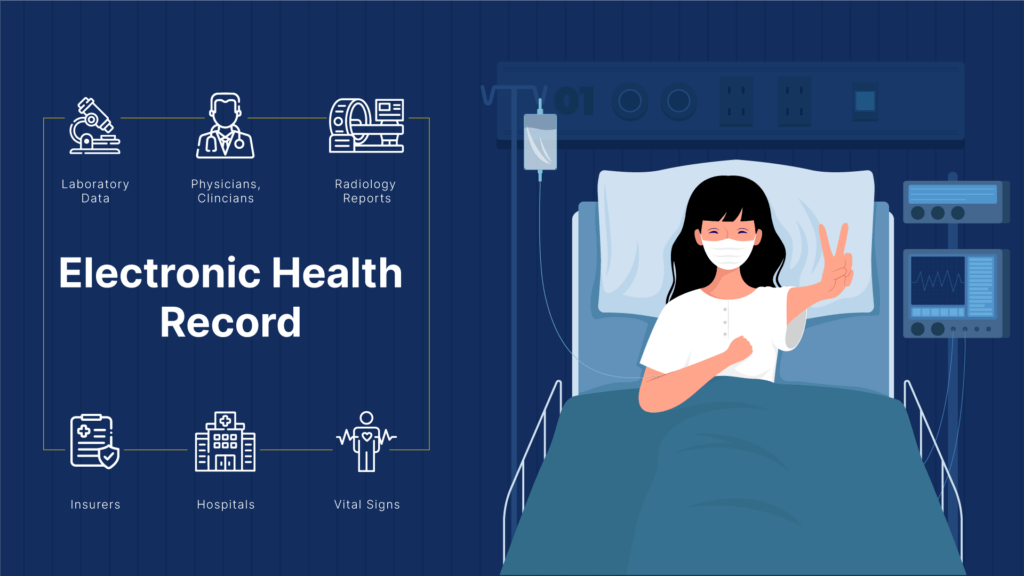 Introduction to EHR Integration
EHRs have revolutionized how stakeholders manage, share, and access patient healthcare records.
Integrating EHR systems into Michael's healthcare solution will give his organization the power to lead efficient diagnosis and treatment. Integrating several EHR systems is crucial for enhancing patient care, minimizing errors, and increasing healthcare delivery efficiency.
This article will explore the technical aspects of EHR integration, including the types of EHR integration, benefits, challenges, and best practices to be followed.
There are two main types of EHR integration: horizontal and vertical.
Horizontal integration entails linking various EHR systems utilized within the same healthcare ecosystem. This integration allows healthcare practitioners to communicate patient information smoothly while enhancing care coordination and decreasing the need for redundant tests or treatments.
Let's consider Michael's case. Horizontal integration is when Michael's organization integrates its Electronic Medical Records system in various departments, such as emergency, radiology, and pharmacy. With horizontal integration, these departments can share patient information seamlessly – saving time, money, and effort.
Vertical integration involves linking several EHR systems used by various healthcare organizations, such as hospitals, clinics, and pharmacies. This integration allows healthcare providers to access patient information from many organizations, improving care coordination and patient outcomes.
Michael's organization integrates its EHR systems with a regional health information exchange (HIE). An HIE will enable Michael's organization to access patient information from other regional healthcare organizations, such as primary care clinics, diagnostic labs, and pharmacies. This will help healthcare practitioners make more informed treatment decisions, reduce the risk of medical errors, and improve patient outcomes.
Benefits of EHR Integration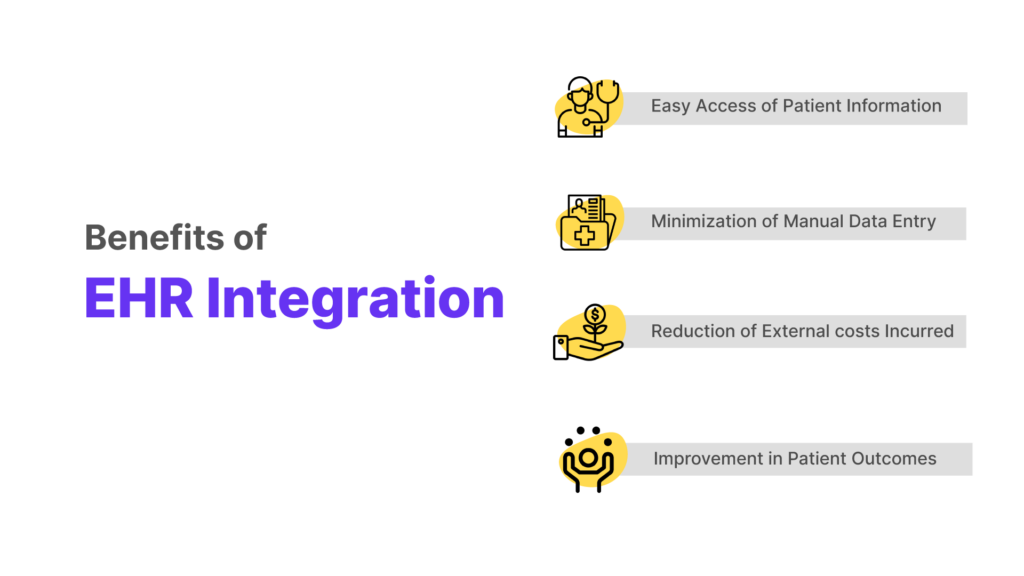 Are you one who relates to Michael's story? Does the need for an efficient system haunt your ambitions to make it great in the healthcare industry?
Partner with us. At TechVariable, we are dedicated to helping you find the answer to your healthcare solution.
What are the obstacles your organization might face during EHR Integration?
Best practices to be followed while integrating EHR systems
The first step to overcoming the integration challenges of EHR systems is the standardization of data formats. Multiple EHR systems use numerous data formats. Thus, using a standard form and exchanging protocols will help achieve Interoperability. Healthcare institutions should use strong data privacy and security safeguards. Organizations should also collaborate with EHR vendors, government agencies, and other stakeholders to create and implement a seamless system of EHR integration. In addition to this, healthcare organizations should combat resistance to change and design a change management system. This will help a better flow of information within and outside the system.
3 Top Tools for a Seamless EHR Integration
There are several popular EHR integration tools available in the market. The top three are listed below:
Cerner
Cerner is a popular EHR vendor among healthcare organizations, offering a range of features and functionalities. Cerner provides integration capabilities with the help of its API called Cerner Open Developer Experience (CODE) which allows third-party developers to build Cerner EHR-integrated applications.
Epic
Epic is a well-known EHR vendor that has easy-to-use interfaces and offers integration features. It has APIs known as Epic APIs, which enable third-party developers to create apps that integrate easily with Epic EHR.
Athenahealth
A cloud-based EHR system, Athenahealth helps healthcare providers manage patient data and clinical workflows. Third-party developers can build applications with Athenahealth API called Athenahealth Developer Portal.
EHR Integration: the next step to revolutionizing healthcare
EHR integration has various advantages, including better care coordination, higher efficiency, cost savings, and better patient outcomes. However, when integrating EHR systems, healthcare companies confront several problems, including Interoperability, data privacy and security, implementation costs, and resistance to change. To overcome these obstacles, healthcare organizations should adhere to best practices. Michael has found the ultimate answer to his dedicated search for an efficient system of handling sensitive data, improving patient outcomes, and better-managing data flow within and into his healthcare ecosystem. It is EHR integration.
Adopt Michael's approach, be smart. Give your organization the tool it needs.